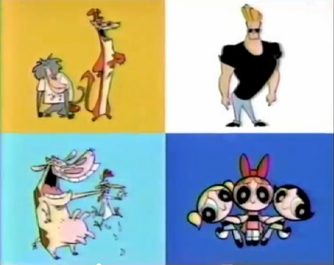 One of the hallmarks of Cartoon Cartoon Fridays from day one was the simple layout involving colored squares containing Cartoon Cartoon characters.
The squares can be white, light blue, dark blue, pink, yellow, or purple. The characters inside the squares can either be still pictures or animated.
The animations were done primarily by Primal Screen, though some were production artwork or from the Cartoon Network Powerhouse "well be right back" bumpers from their show. Or lifted directly from the shows the characters originated from.
Dexter's LaboratoryEdit
Johnny BravoEdit
Cow & ChickenEdit
The Powerpuff GirlsEdit
Ed, Edd n EddyEdit
I Am WeaselEdit
Mike, Lu & OgEdit
Courage the Cowardly DogEdit
Sheep in the Big CityEdit
Additional Non-Character SquaresEdit
These squares, doesn't relate to any show, are usually used for .com Pick, Host Pick and the 2001 intro with different characters (seen on the monitors and the "coming up" sequence).